So you have successfully found the girl of your dreams, trouble is that she lives in a country that does not issue passports so easily, now you must convince her that a long distance relationship along with annual visits will work just fine… Bye Bye… She is gone in 3 weeks out with some other guy, who has a better story, but just don't jump on a marriage visa just yet.   Well, if you want to keep her there are many possibilities you can pursue to get your countries Embassy to allow for her arrival.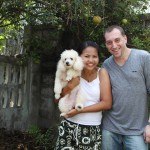 Tourist Visa – Not a Marriage Visa
This might be the simplest approach, but very often fails when she confronts the embassy that she is ready to travel abroad. The reasons are plentiful, as they factor in her age, her annual income, what assets and job she will be leaving behind on her journey and finally the liability she wont return back to her home country. If she uses a tourist visa to visit you and than eventually marries you, there can be issues that the tourist visa was not used in good faith and she can than be denied the right to marry you by your countries ordinance. If she is under 30 and not wealthy, I would skip this option.
Education Visa – Not a Marriage Visa again!
Does she feel like continuing her education with you as her sponsor? This visa works great if she has good grades and wants to travel and live abroad for up to 5 years to continue her education in another country. She must first prove to the embassy that she, or someone in her family can finance the education, and in most cases must show the embassy her acceptance to an accredited college, with her first course itinerary which must be prepaid in full. There is risk with this visa, if the embassy denies her request you will lose out on her first semester classes and universities typically only refund 25-50 percent of her tuition. You should make sure she has the proper recommendation from her school, and that you can show adequate care as her sponsor, do not let them know you are a boyfriend, or the visa will be denied, as most countries are extremely cautious about the misuse of a visa.
Engagement Visa – Close to a Marriage Visa, but again you are still safe!
This Visa will work unless she has used it in the past too many times, or he/she have a criminal record or he/she is already married. The drawbacks that come from the engagement visa is the 3 month interim period in which you either marry, or move on. This visa is logged for the both of you, and will most likely not work in the future with another if abused for just a casual fling in his/her country. If you decide to get married the visa application process will continue, and more money and paper work will ensue. I suggest using an agency, as doing this all yourself proves to be a lengthy process that is more money than it's worth.